Coal Sampling and Analyses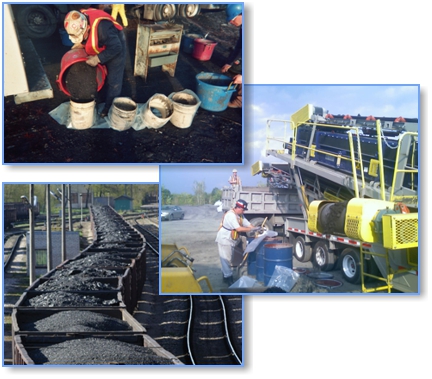 MAS provides a complete line of laboratory analyses to meet the needs of energy producers and consumers. All analyses are run in accordance with recognized industry standards such as ASTM, ISO or EPA standards. Our laboratory utilizes state of the art equipment and experienced technicians to provide fast and accurate laboratory data on coal, metallurgical coke, petroleum coke, refuse derived fuels, oils and solvents.
Coal testing and analysis usually begins when the coal is still in the ground. Exploration coal core samples are drilled and analyzed for recovery and coal quality well before the mining process. During mining coal channel samples are routinely collected and analyzed for recovery and coal quality to determine the most efficient coal preparation system necessary. During preparation coal samples are collected and analyzed to assure the desired product quality is being achieved. Third party coal sampling and analysis are done routinely at loading and discharge of rail cars, trucks, barges and stockpiles. Finally, coal is routinely sampled and analyzed at the power plant to determine plant efficiency and EPA compliance.



Testing Standards Used By Miltech Analytical Services
Collection of a Gross Sample of Coal
ASTM
D2234
Collection of Channel Samples of Coal
ASTM
D4596
Collection of Coal Samples from Core
ASTM
D5192
Preparing Coal Samples for Analyses
ASTM
D2013
Sieve Analyses of Coal
ASTM
D4749
Coal Washability Studies
ASTM
D4371
Total Moisture in Coal
ASTM
D3302
Single Stage Moisture in Coal
ASTM
D2961
Equilibrium Moisture in Coal
ASTM
D1412
Ash Content of Coal
ASTM
D3174
Sulfur Content of Coal
ASTM
D4239
Forms of Sulfur in Coal
ASTM
D2492
Volatile Matter of Coal
ASTM
D3175
Gross Calorific Value of Coal and Coke
ASTM
D5865
Grindability of Coal
ASTM
D409
Chlorine in Coal
ASTM
D2361
Fusibility of Coal and Coke Ash
ASTM
D1857
Analyses of Trace Elements in Coal and Coke Ash
ASTM
D3683
Nitrogen Content of Coal
ASTM
D3179
Carbon & Hydrogen Content of Coal
ASTM
D3178
Cubic Foot Weight of Coal
ASTM
D291
Degree of Oxidation
ASTM
D5263
Free Swelling Index of Coal
ASTM
D720
Apparent True Specific Gravity
ASTM
D167